Working in the dental profession puts a smile on my face, daily.
I thoroughly enjoy meeting different people and helping each as we work together to make their smiles healthier and more beautiful. Over the course of my career, I have learned so much from the people I've met and provided with dental care. I wouldn't trade those conversations, those connections, those friendships for anything.
I know dentistry is not a profession for everyone, but I really do look forward to coming to the office every day. It is deeply satisfying to help my patients out and be proud of the progress we make working together on improving their oral health.
Background and Education
I grew up in Sumner, Iowa, in a family with a long history in dentistry. My great-grandfather graduated from the University of Iowa College of Dentistry 100 years before I did! My father and sister are both dentists in Iowa, and I have an uncle who is an orthodontist, too.
Believe it or not, I wasn't forced into the profession. I saw how much my family enjoyed the dental field and it seemed like a good fit for my personality and talents.
I received a Bachelor of Arts in mathematics from the University of Iowa. Dental school, at the University of Iowa College of Dentistry, resulted in my Doctorate of Dental Surgery.
In Practice
I have been a practicing dentist since 2006, when I completed dental school and moved to Washington where I took a job at a dental chain office.
Although that experience enhanced my knowledge and strengthened my skills, I knew I wanted my own practice, where I could care for patients in the manner I knew best.
Eventually I found this one, which I took over in 2012. The office has been a leading dental health provider for almost 50 years. I am dedicated to maintaining its long-established patient-first reputation.
One of the most rewarding aspects of dentistry, and this practice in particular, is getting to know patients as individuals and developing bonds with them. We have the freedom to take as much time as needed with each person, which results in a better level of dental care, patient experience, and outcome.
I especially love watching patients learn to care for their dental health after our staff educates them. It's very satisfying for all of us to see someone improve their home care and oral health as a result of what we have taught them. Seeing those bright, healthy, beaming smiles keeps my team and I motivated!
Continuing Education
Staying on top of new techniques and technologies in the dental profession helps me provide the best quality work for my patients. Materials and procedures are constantly changing as a result of ongoing research. It does the dentist (and patients) the best service to keep on top of the newest developments. Through careful evaluation, I am able to incorporate those changes that improve patient care and outcomes, and deliver the best quality of service and results.
In addition to active participation in the Jet City Study Club, I regularly participate in continuing education through the University of Washington and Invisalign®.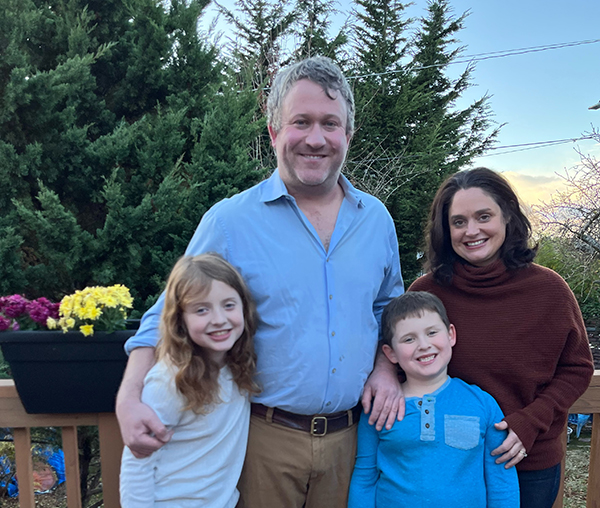 ---
Away from the Office
When my workday is done, I head home to Greenwood and my family. My wife Ann and I have two kids: son Cameron and daughter Kerry. Our household also includes three cats. The kids are active in soccer and we all love getting outside to hike and camp when we can.
After living in Iowa, I've come to love living here in Washington. I enjoy hiking the mountains and exploring the coast. My kids and I love tide pooling at the nearby beaches to see what they (and I) can find. And I'm currently learning how to flyfish.
I still enjoy playing basketball when time allows and, since I'm a dentist, I occasionally golf, as well. At home, I'm passionate about healthy cooking and eating.
I prioritize time with family and friends. We make frequent trips back to Iowa to see our immediate family, all of whom reside there.